ACHE Face-to-Face Credits Offered – Register Below
Keynote Speaker:
Michael E. Frisina, PhD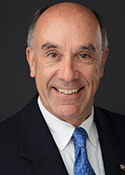 CEO, The Frisina Group
BIOGRAPHY
Michael E. Frisina, PhD, is founder/CEO of The Frisina Group LLC, Elgin, S.C., and The Center for Influential Leadership. He is an author, educator and consultant specializing in healthcare leadership and performance improvement. He is also an internationally known speaker and the author of Influential Leadership: Change Your Behavior, Change Your Organization, Change Health Care. Dr. Frisina was previously assistant professor at the U.S. Military Academy at West Point and assistant professor at the Uniformed Services University of the Health Sciences in Bethesda, Md. He has held administration positions in both military and civilian healthcare systems at various levels of increasing responsibility.
---
Full event details:
Approximately one out of every three physicians is experiencing professional burnout at any given time. Equally troubling, burnout exists among all healthcare professionals and is on the rise. With staff burnout linked to multiple problems in healthcare organizations—lower care quality, lower patient satisfaction, higher medical error rate, high turnover rate and, sadly, suicide among healthcare workers—the stakes are high for leaders to make staff wellness a priority. Yet, most healthcare leaders frequently fail to acknowledge and address this serious issue. Even when leaders recognize this as a problem, they are often presented with confusing information or get-better-quick solutions that bring no lasting change and can sometimes increase cynicism among employees. During this two-day seminar, participants will learn how to recognize burnout and will explore a simple and practical framework to improve overall staff wellness.
While presenting and demonstrating the framework, expert faculty will show how healthcare leaders can work collaboratively with clinicians and non-clinicians alike to resolve personal and organizational burnout dynamics. Participants will leave the course with an actionable plan to reverse—or better yet, prevent—burnout in their own organizations and ideas for improving overall wellness strategies.
Webinar Objectives:
Understand the difference between burnout and stress, the three main symptoms of burnout and how to recognize it in oneself and others.
Develop a plan to reverse and prevent burnout including creating a performance engagement system within the organization.
Discover how to target burnout and lead the way for others in your organization to address this critical issue as part of a wellness and performance objective.
---
Registration
Due to the high demand for this program and the F2F credits, please register only if you are confident you will be able to attend. If your schedule changes, please cancel your registration to make space for other participants. Refunds will not be provided. 
Attendees can claim 1.5 virtual face-to-face ACHE credits. 
Step 1: Register Here through Eventbrite<– If you have registered in Eventbrite, but have not received an Eventbrite registration confirmation email, please first check your spam folder, and then email marketing@hlny.org. 
Step 2: [for ACHE Members and Students] After you have registered through Eventbrite, you will see instructions to visit ACHE.org both in the on screen order confirmation as well as the confirmation. Please navigate to ACHE.org from that link to register with ACHE and claim F2F credits. Step by step instructions can be seen here: http://hlny.org/how-to-register-for-a-virtual-face-to-face-event/ 
Step 3: Once you have registered and claimed F2F credits through ACHE.org, you will receive confirmation emails from ACHE.org to the email address linked with your ACHE.org account. This will include instructions on how to access their Learning Management System (LMS) and the Zoom Webinar link that will be directly accessible from this system. If you have any problems with this step, please contact Catie Russo at crusso@ache.org.